Do you hate trying to clean your shower screen knowing that you will never get the glass totally clean? Have you ever wondered about the health impacts of a build-up of body oils & soap scum? Are you wasting your time & money on all kinds of chemicals? NQ Protective Coatings are your local Mackay/Whitsundays certified EnduroShield applicators.
Get a FREE quote or inspection
During inspection of your shower we will advise you if the glass can be restored.  You will then be quoted a price before work proceeds.  Restoring glass is well below replacement cost. We will restore your glass to a like-new condition, then protect the surface with EnduroShield so the etching & staining doesn't occur again.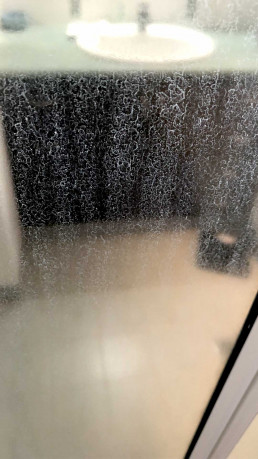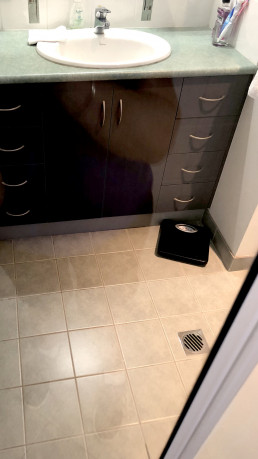 Have you really tried everything?
EnduroShield ® is a revolutionary invisible treatment that repels water, soap scum & grime, allowing you easier cleaning less often.  Water will bead on the surface, demonstrating EnduroShield's repellent nature, and similar to a non-stick fry pan cleaning time is noticeably reduced.  EnduroShield works on new and existing surfaces.
NQ Protective Coatings offer professional applications or DIY kits.  You can be assured a quality application and professional approach when you have your EnduroShield applied by us.  We are fully trained in the complete range and able to clean and protect your surfaces, making them easy to clean and maintain for years to come.
Untreated glass is porous and as a result absorbs mineral deposits and soap scum, making it more and more difficult to clean overtime. NQ Protective Coatings glass treatment makes cleaning shower glass easy and repels soap scum, grime and dirt. Ultimately reducing your cleaning time by up to 90%.
Get a free quote
The invisible glass coating for pool fencing is both water and oil repellent, protecting against staining and etching. An ideal solution for glass pool fencing or indoor and outdoor glass balustrades. It is beneficial for helping to protect glass from staining and etching overtime caused by salt and chlorine – eliminating the need for expensive glass restoration or replacement of panels.
Get a free quote
Exterior glass that is located in Mackay along the coastline is especially prone to etching and staining from salt spray requiring greater time, cost and effort in maintenance. EnduroShield can be applied by NQ Protective Coatings to new or existing glass surfaces, and is suitable for sandblasted and acid etched glass.
Get a free quote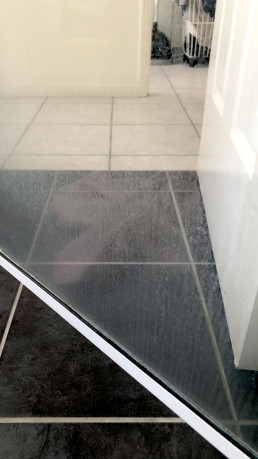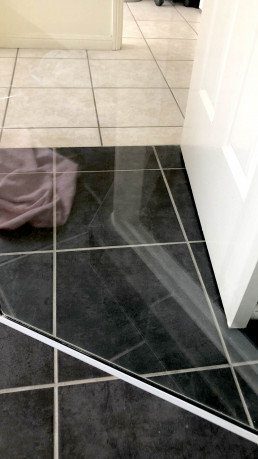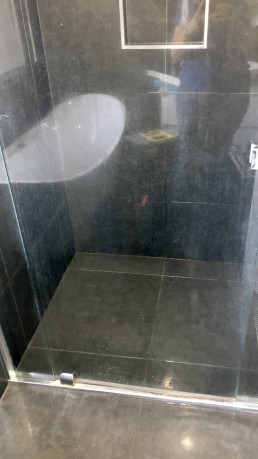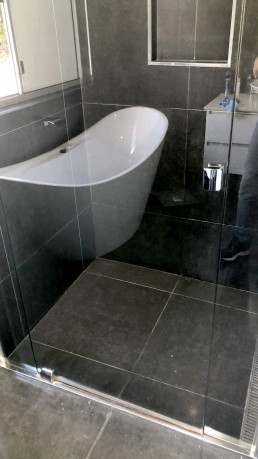 Before & after NQ Protective Coatings
Imagine if all high traffic surfaces in your home were non-stick. No more scrubbing and no toxic chemicals; look after all your cleaning needs in one simple application. EnduroShield is a revolutionary easy clean coating that creates an ultra-long lasting invisible shield on all glass, ceramic or porcelain tile, grout, stainless steel, and chrome surfaces.
Cuts cleaning time and keeps glass cleaner between cleans
Superior protection against staining
Once only application lasts years
Revitalizer products not required
Suitable for new & existing glass
Eco friendly – no need for cleaning with harsh chemicals